ABM's skilled craftsmen have the required skills and experience to renovate period properties with traditional lime plastering, carpentry and traditional decorating expertise that will restore their authenticity and character – and where required consider the necessary balance with practical modern living and design
Our period property decorators regularly work on listed properties, restoring and preserving their heritage using traditional techniques. Projects include grade II listed The Malt House (Surrey) built 1458 and renovating a family home in West Hampstead.
A listed building may not be extended or altered without special permission from the local planning authority (who typically consult the relevant central government agency, particularly for significant alterations to the more notable listed buildings).
When alterations are permitted, or when listed buildings are repaired or maintained, the owners are often compelled to use specific (and potentially expensive) materials or techniques and it can become overwhelming. ABM has considerable experience in listed buildings (or as they are now called registered heritage assets) and period restoration. We will coordinate with you and the local council inspectors to solve the challenges that will inevitably arise and help you make and carry out the right choices using traditional materials and techniques.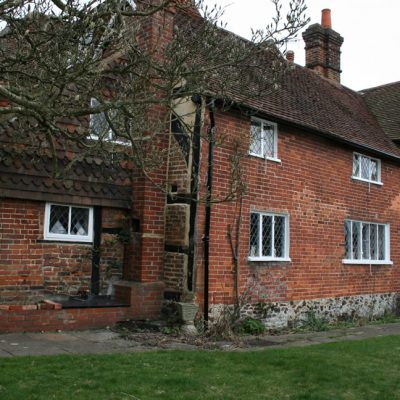 Wattle and daub
Wattle and daub is an ancient construction technique for building walls and plastering between beams in period properties.
A woven latticework of wooden stakes called wattles is daubed with a mixture of cow dung and straw to create a remarkably strong but flexible structure. This makes it ideal for timber frame buildings, where the changing seasons and usage of a building can cause structural movements.
In half-timbered buildings, the wattle and daub is contained between the wooden beams and painted with white wash, giving the building a characteristic black and white period look much sought after by country houses and pubs.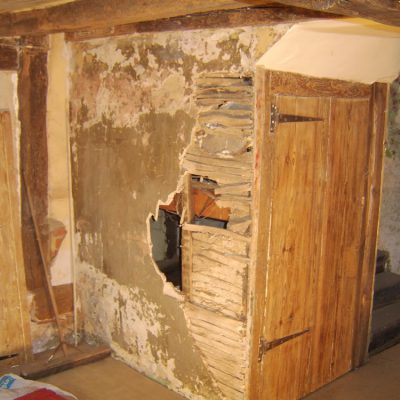 ABM is experienced in the use of lime plaster throughout period properties in Surrey, Kent, Sussex and London. We work with specialist suppliers and have a certificate in lime plaster techniques.
Lime plastering is a highly skilled and painstaking process that uses traditional lime and water based plaster to decorate the final layers of a period interior. The lime plaster is porous, allowing essential moisture to pass to and from the wooden structure of the building. This breathing is important to avoid cracks and structural problems in your property, especially in wooden framed buildings.
It is often necessary to strip decades of modern materials from a wall to expose the wattle formed from original oak laths (strips of wood) upon which daub (clay, chalk plaster mix) would have originally been laid to form a plaster wall.
Lime plastering is a step-by-step process. Once the original laths were exposed in this house in Surrey, the missing laths were replaced using traditional seasoned oak laths.
Successive layers of lime plaster were built up and allowed to dry naturally to avoid cracking. The layers must be properly hydrated (wettened) at each stage and the drying cannot be forced. The process requires years of experience to create the right mix, the right application and to intervene when things don't go smoothly.
We help our customers choose appropriate materials to meet restoration, cost and building requirements.
For example, reed boards can be used in place of more expensive chestnut or oak wooden laths, providing a flexible and breathable structure for lime plaster-work to a more economical budget.
Apart from the desire to maintain period features and authenticity, modern plaster is still also unsuitable for use in period properties because it would (and does) result in damp problems and plaster cracking because the materials are not flexible and breathable.
Horse hair or straw can be added to traditional lime plaster to achieve the required consistency and strength.
Lime plaster is also solvent free, making it better for the building's inhabitants, the environment and your humble decorator! For this reason, lime plastering and earth or lime based paints are currently experiencing a comeback in both period properties and more modern homes.